History of the Clinic
The Murwillumbah Veterinary Clinic is the only clinic in the Tweed Valley providing care for both small and large animals. Dr Joan Gibbons and her husband Neil became sole owners of the clinic at the end of 2017 and aim to continue to provide "country Caring with a Wealth of Experience'" to their clients.
Murwillumbah Veterinary Clinic always strives to do what is best for the animal and as part of this we have a fear free approach to the animals we treat. We also have a strong interest in enrichment to provide opportunities for our pets to learn, encourage instinctive behaviour , and reduce boredom.
We have a comprehensive library of handouts which we have developed to be locally relevant. We pride ourselves on our customer communication and will supply written post consultation sheets for you to take home after your visit.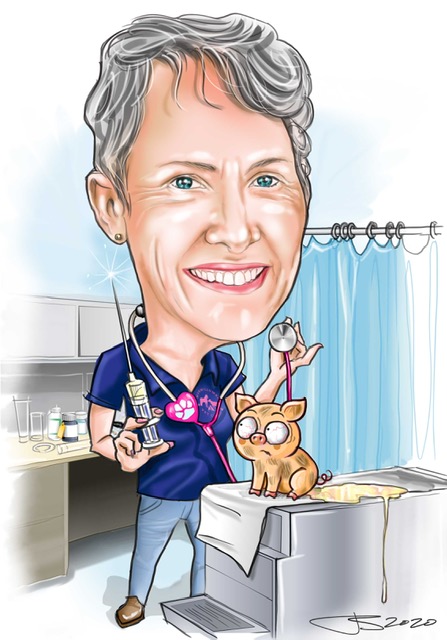 Dr Joan Gibbons
B.V.Sc. (Brisbane) 1989 – Practice Owner, Certified cattle pregnancy tester
Special Interests: cattle obstetrics, canine medicine, fear free consulting.
The daughter of dairy farmers hailing from Warwick, I always wanted to be a vet. As a young child I would make rugs from hessian bags for any sick calf and sneak them into the hay shed to recuperate. Dad was not particularly happy when they pooed all over the hay!!
Read more...
I graduated from Qld Uni in 1989 and count myself lucky to still love my job after 33 years. In 2015 I caught up with friends from vet school and found many of them were no longer in practice and were engaged in careers as diverse as IT and human medicine. I started out in dairy practice in Kerang, Victoria where I learned lots of tricks for dealing with difficult calvings. Today, those skills stand me in good stead for even the most difficult bovine obstetrical case. Having "double jointed" elbows also helps!!
My family, husband Neil and children, Charlie and Summer are my greatest joy.
We have 3 pets, a Grey cat called Sparkles that was a birthday present for Summer in 2014 , a Tabby cat named Fiddy (a 50th birthday gift to myself) and a Jack Russell Cross named Tiki. Fiddy and Tiki grew up together and have a great bond often playing rough and tumble games together.
My free time is very fitness oriented. I enjoy gym workouts, running and yoga. I do Saturday triathlon during Summer as much for the camaraderie as for the personal achievement. Travel is also a passion with holidays within Australia and overseas often on the agenda.
At the end of 2017, myself and my husband Neil became sole owners of Murwillumbah Veterinary Clinic, something that is both exciting and challenging. Neil now works in the office in the role of Practice Manager.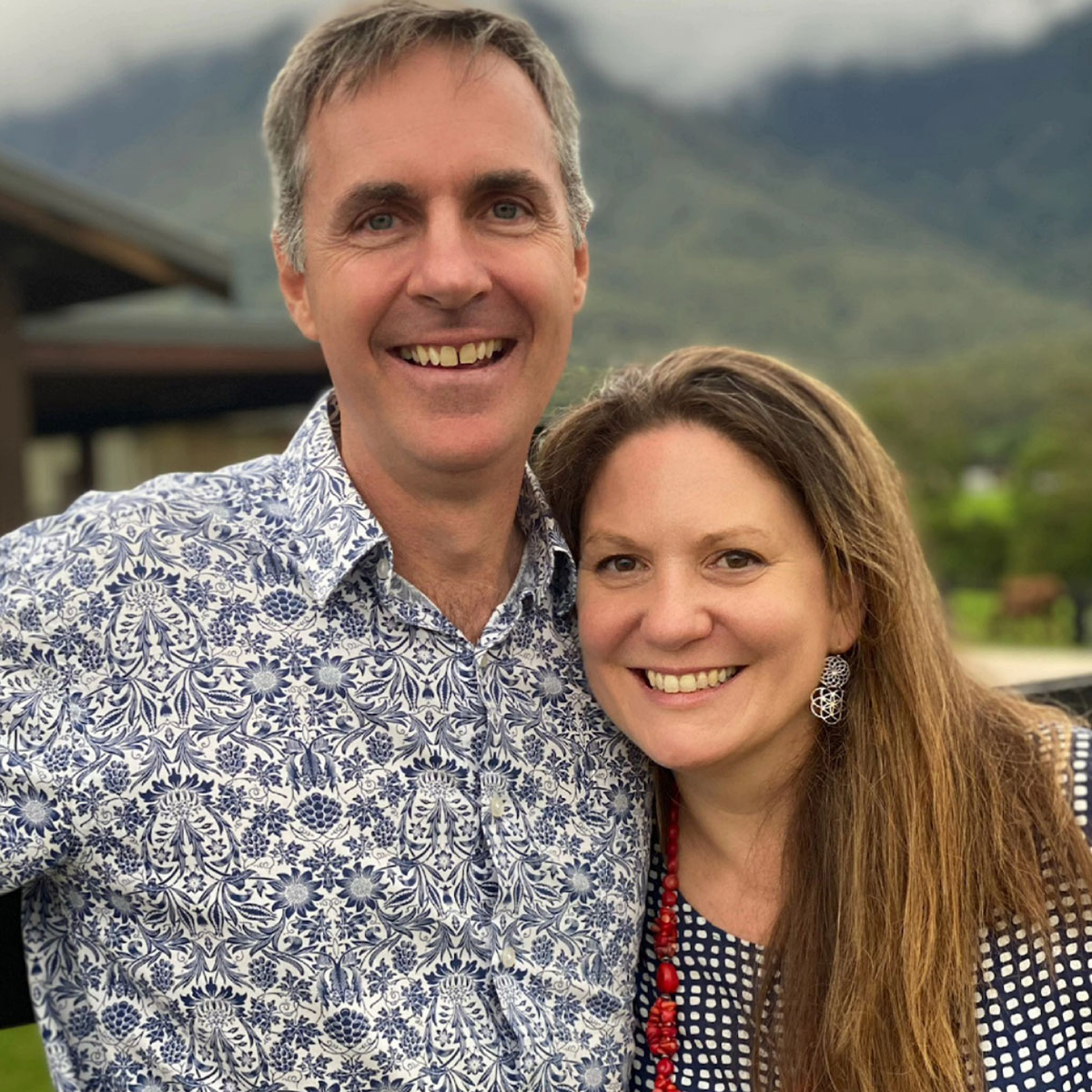 Dr Sam Walker
B.App.Sci (Hons) BVSc. (Hons)
My interest in veterinary science began at an early age, while growing up on a beef cattle property just outside Lismore.
After completing honours in Environmental Science at the Southern Cross University, I gained entry to the Bachelor of Veterinary Science at the University of Queensland. During my studies I met my future wife Cristina, who was also in the same year.
Read more...
In 2008, I started work at the Murwillumbah Veterinary Clinic. This clinic has a great family feel and immediately made us feel very welcome. The variety of work that the clinic offers is something I enjoy. In a day it can range from doing dental work on a rabbit in the morning to calving a cow in the afternoon; and plenty of dogs, cats in between. I enjoy all aspects of mixed practice and have particular interests in surgery, internal medicine and ultrasonography.
In 2010, Cristina and I went to the UK to live and work for a year. We filled locum positions all over the country and it was a great experience both professionally and personally. The work was interesting and diverse. We learned about pets that we don't often see in Australia such as degus and chinchillas, and had some interesting experiences such as treating military dogs returning from service in Afghanistan. Between locum positions, we enjoyed exploring the UK and Europe in our motorhome. We had a lot of fun and met a lot of great people. After about three and a half years, we thought we had better head home!
After a short stint in Brisbane, we moved back in Murwillumbah. We love living and working here, and are blessed to have two children.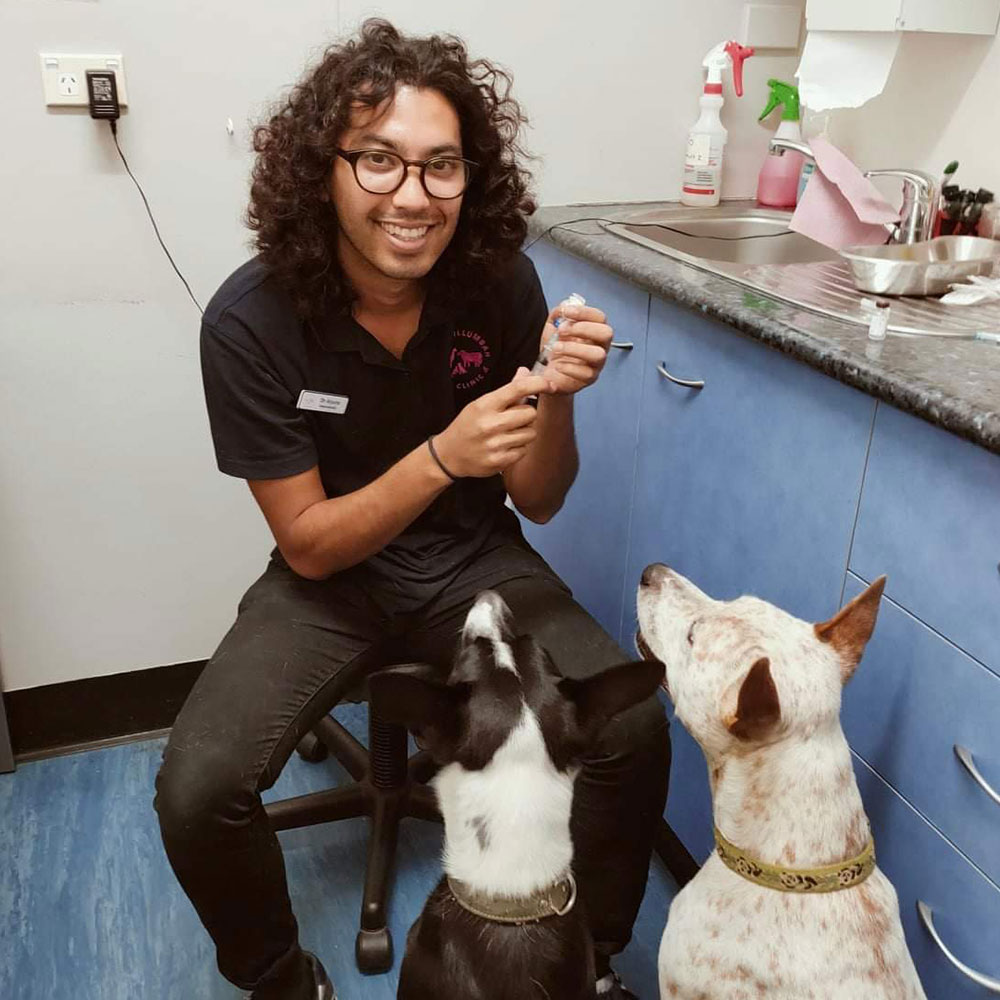 Dr Arjuna Govindasamy
BSc BA DVM
Dr Arjuna (Aj for short), is a local who grew up in Murwillumbah.
After completing the Doctor of Veterinary Medicine course at the University of Sydney in 2018, Dr Arjuna spent 2 years working in mixed practice on the Mid-coast. After a decade away, Dr Arjuna returned home to join the team in 2020.
Read more...
His interests include surgery, pain management and One Health.
In his spare time, Arjuna is almost always outdoors, often with his Wolfhound X, Keeva. He enjoys playing for his boyhood club MFC, and has recently taken up pottery!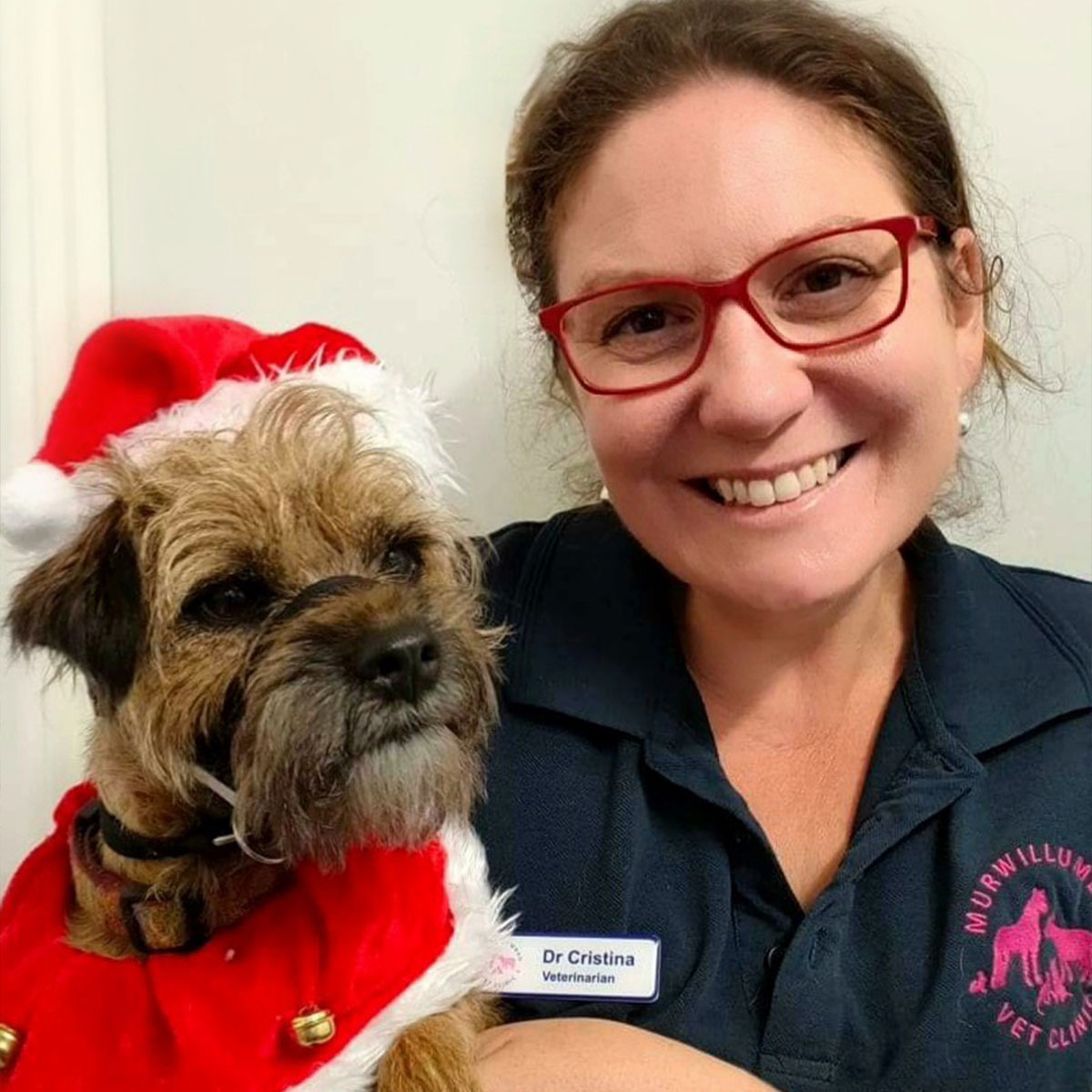 Dr Cristina Walker
Animals have always featured in my earliest memories. Becoming a Veterinarian was always my goal.
Growing up on a hobby farm north of Brisbane, if I wasn't milking goats, I was taking the pigs for a run, bottle feeding lambs, helping chickens hatch, being chased by geese, or tending to our budgies, ducks, Guinea pigs, dogs and cats.
At the age of 15 I was offered a high school weekend position hydrobathing dogs on a Saturday, and from there I progressed to a career as a Veterinary Nurse. Having worked as a Veterinary Nurse in Brisbane and in Melbourne, I returned to the University of Qld to study further in order to gain entry to Veterinary Science.
Read more...
In 2007 I graduated with first class honours, having met my future husband Sam during the course. After a couple of years in Murwillumbah (Sam here at MVC while I worked in Tweed),we set off to the UK to work and travel. What was initially a twelve month trip became three and a half years. The experience we gained during those years working all over England was incredible.
In 2013 we returned to Australia, and while working part-time as a Veterinarian, I also gained qualifications to teach Veterinary Nurses at TAFE in Brisbane. It was an honour to be given the opportunity to share in a small part of people's journey into their Veterinary Nursing career, not to mention the incredible teaching staff I met and learned from during that time.
Moving back to Murwillumbah in 2016, we now have two beautiful children and a cheeky Border Terrier called Ava. We love exploring all that this beautiful region has to offer, but the people we work with, and the friends we have made, make this place our home.
My veterinary interests are broad, and I love the variety that general practice offers. I enjoy small animal surgery, feline medicine and ophthalmology, but enjoy dealing with any pet with any problem really. Working in a supportive, collaborative practice such as Murwillumbah Veterinary Clinic means that we can work together on just about anything!
I look forward to chatting with you!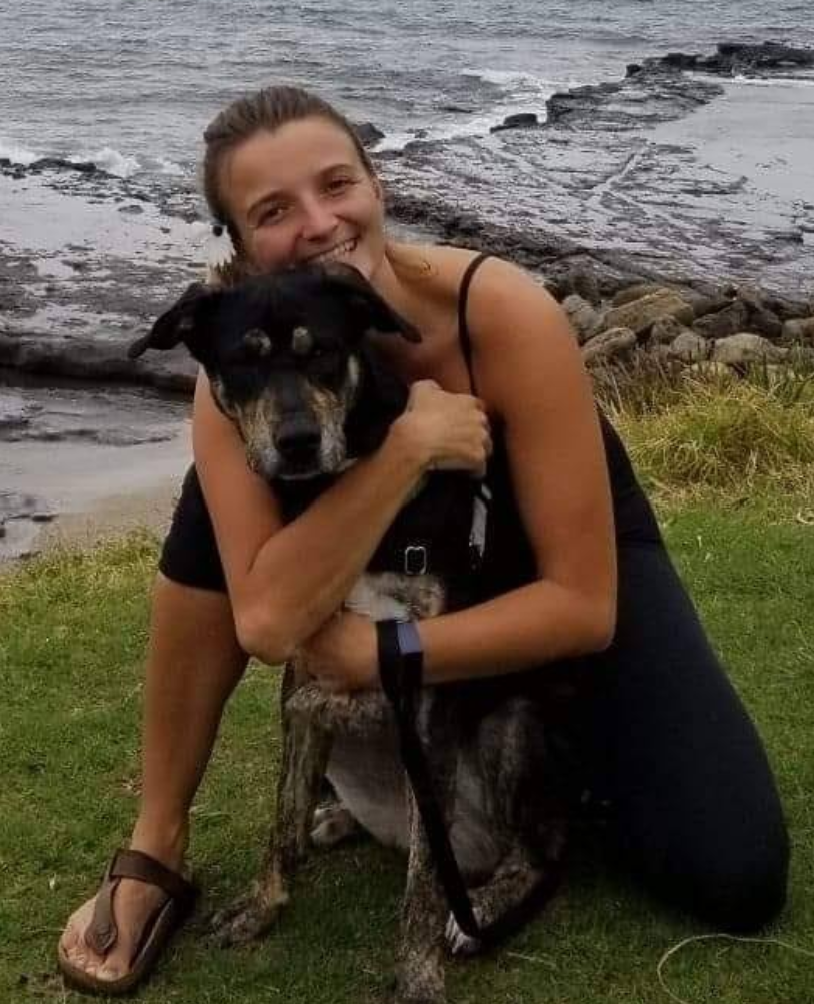 Dr Tanis Aiton
BSc. DVM
Tanis was born and raised in the small farming community of Pemberton, British Columbia, Canada on a property full of animals. She obtained a Bachelor of Science degree in neuropsychology and linguistics on Vancouver Island, where she met her long-time partner. After working as a veterinary emergency nurse for a few years, she decided to trade in her skis for a surfboard, and made the move across the globe. She studied in the Doctor of Veterinary Medicine program at the University of Sydney, graduating in 2021. While attending placement at Murwillumbah Veterinary Clinic, Tanis fell in love with the staff, the clientele and the surrounding area.
Read more...
After graduation Tanis, her partner turned fiancé, and their newly adopted kelpie cross named Gypsy, made the move to the Murwillumbah area. They made an amazing decision and have really enjoyed living in the area.
In her free time Tanis can be found exploring the great outdoors: hiking, camping, learning to surf and climb, playing soccer or enjoying the beach.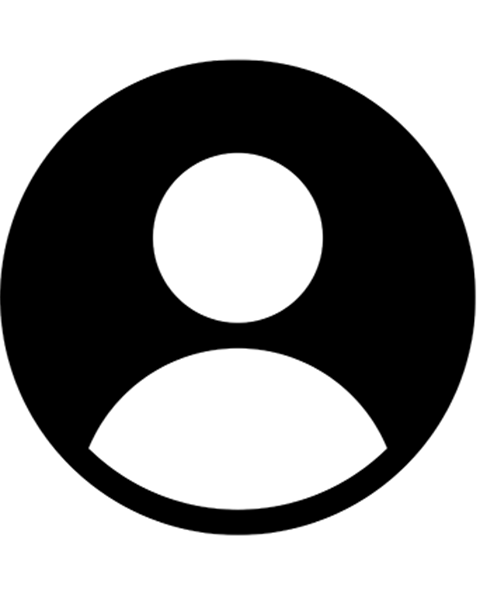 Dr Jerah Hart
My interest in Veterinary Medicine began growing up on a hobby farm in Highvale, on the outskirts of Brisbane. I graduated from the University of Queensland Veterinary School in 1993. During my studies I worked part-time as a veterinary nurse in a mixed equine and small animal practice. Upon graduation I then worked as a veterinarian in mixed practice for 2 years followed by a period of 1 year spent working in various practices as a locum across the United Kingdom.
Read more...
On return to Australia, I continued to work in long-term locum positions in small animal practices around Brisbane.
After an extended break from Veterinary practice to raise our family of four children and manage our family farm at Uki, I returned to the Veterinary world to work as an assistant with a cattle repro vet and then began work at MVC.
When not at work I am usually at the farm hanging out with our much-loved horses and Speckle Park and Droughtmaster stud cattle.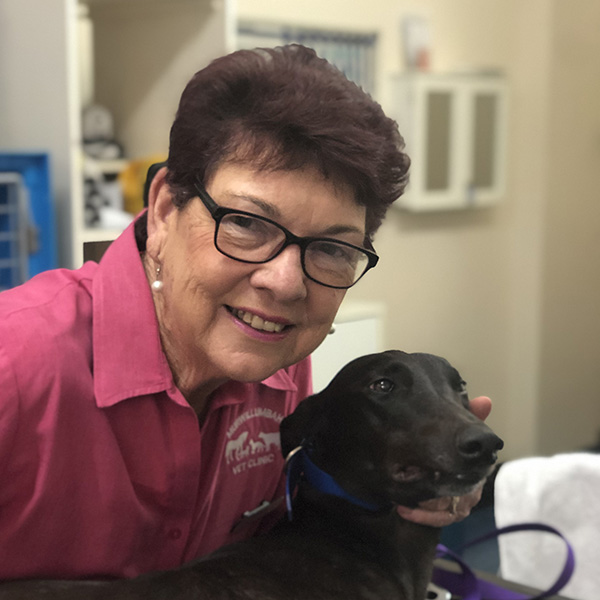 Robyn McCalman
Head Veterinary Nurse
I have been working at MVC since 1983! I was born and bred in Murwillumbah and am married to Ron. I have 2 adult children Carolyn and Craig, eight grandchildren and a large extended (and extremely social) family. I enjoy cooking for family nights in but also enjoy going out to dinner.
We live out at Condong on a property where I lived as a child and we run cows and greyhounds. I have been involved with greyhounds for over 30 years and we race (reasonably successfully) and breed them. My knowledge in this area comes in handy at work too!
Read more...
I started working at MVC with the previous owners while my children were at school, at first doing afternoon work then as they got older I moved to full time work both in the office and nursing. Since Steph and Joan (and then Joan as solo owner) took over I have watched the place grow and change in great strides. I am happy to admit I was a bit nervous about what those changes might be after working with the same people for so long!
I am now the head surgical nurse at the clinic. I do admissions, pre meds for surgery, assist the vets during surgery and ensure the recovery of your pet after. I also do the ordering for the clinic so if there is something we don't carry come in and talk to me. As the clinic has grown, keeping on top of inventory is difficult and I am having to learn new computing skills – just goes to show you CAN teach old dogs new tricks!
I still love working with the animals here and the rest of the staff are like extended family to me now after so many years together. It's lovely to work somewhere where just about every face that comes in the door is someone you know. This is one of the delights of living in such a great Australian country town.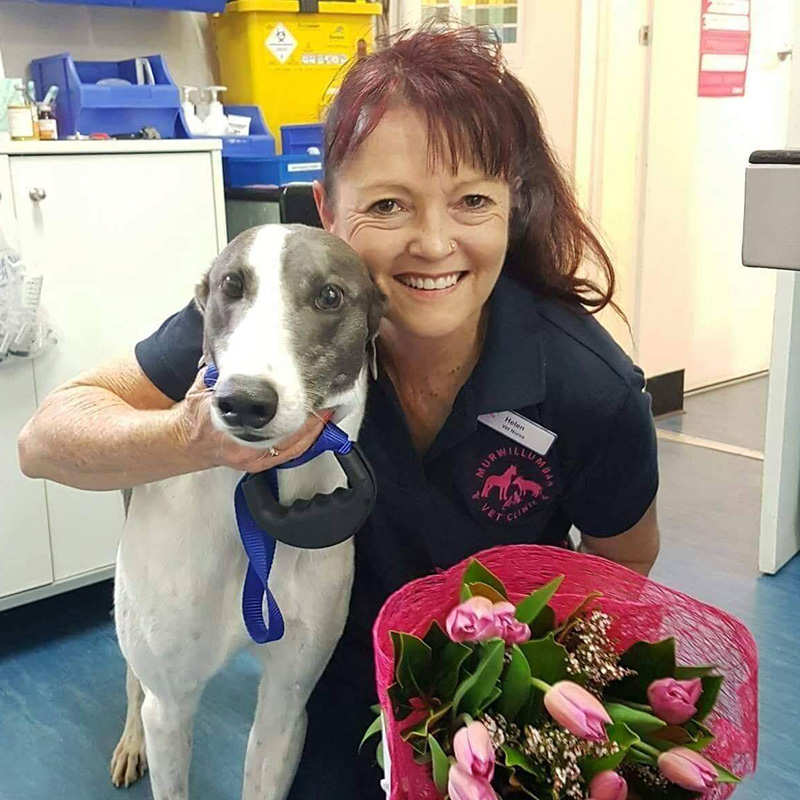 Helen Gorton
Veterinary Nurse & Receptionist
I was thrilled when I was asked to join the MVC team as a receptionist in April 2008. I then studied Vet Nursing and gaining my Certificate IV in Veterinary Nursing and and now I also work in our Consulting Rooms. I was nominated by a fellow work mate for Pet Plan Vet Nurse of the Year 2018 / 2019 and I won! A very proud moment.
Read more...
I have an extensive knowledge of horses. Since a small child I have completed successfully in Pony Club, Agricultural Shows and have won at Royal Show level.
I have been involved with the racing industry for 39 years.
I don't have much free time, as I am also kept busy clipping horses but I enjoy looking after my property, keeping fit, lifting weights, bike riding and running. I have an extensive animal family at home, including horses, cows, dogs, cats and a bird!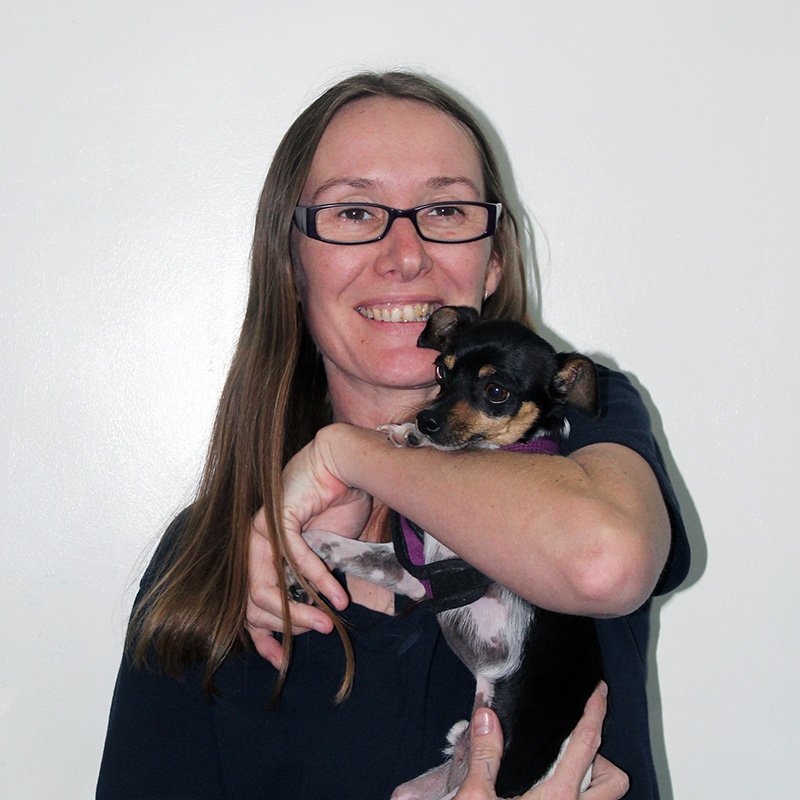 Rachel Hurst
Senior Veterinary Nurse
On Maternity Leave
Hi, I'm Rachel and I have been a part of the team at Murwillumbah Veterinary Clinic since 2003 when I started as a volunteer.
All the staff at MVC are wonderful people, we are more like a second family than just workmates. I work mostly as a surgical nurse, preparing patients for procedures, monitoring anaesthetics and recovering surgery patients. In this role you might meet me admitting or discharging your pet on the day of its surgery. I also enjoy the role of kennel nurse keeping our patients comfortable, clean and warm and monitoring them for any change in their condition. I have completed Certificate IV in Veterinary nursing.
Read more...
We really are a team here though and everyone helps each other as needed being ready and able to turn our hand to most tasks. This is particularly so in times of emergencies which require all hands on deck at a moment's notice.
I always knew I wanted to work with animals from my very first job in a pet shop, later volunteering for Friends of The Pound. I particularly find it a rewarding experience when former pound animals are desexed here, recover and go home to their loving new owners.
Outside of work, I love to travel and spend time at the beach with my dog Harley or playing at home with my cat Kit.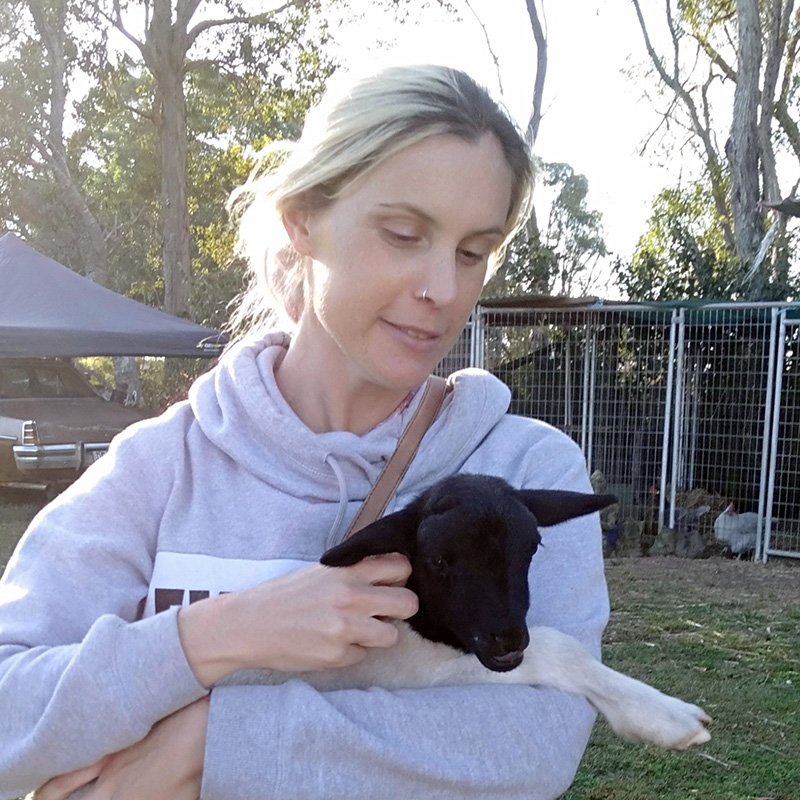 Melana Oakes
Veterinary Nurse
On Maternity Leave
I started volunteering at the Murwillumbah vet clinic in October 2012, at the time I was doing Certificate II in Animal Studies, I continued my studies and getting my Certificate III in companion animals and Certificate IV in vet Nursing.
I currently am a registered Breeder of Staffordshire Bull Terriers and have a multitude of other pets including, 2 cats, 2 rabbits, 2 Budgies, chicken and Ducks, I have always had a love for all animals so it was an easy decision to turn that love into a profession. Put it all together with my 3 kids and I definitely have a busy household. My Partner and I are currently living on 12 acres and with the dream of one day owning a larger parcel of land and to increase the range of animals to include different types of farm animals to our extended family.
Read more...
Growing up I had a father that was a real animal lover that used to bring home an array of lost or injured animals that we would nurse back to health so they could be released back into the wild, This meant even having an Echidna in our bathtub for 2 weeks after getting hit by a car that we had to go out and dug up grubs from the garden each night to feed. We had all sorts of animals including snakes, lizards and turtles, i always had friends that would want to come over as most never even seen these reptiles let alone hold and see them feed.
While working at the Murwillumbah vet clinic myself all the staff have become a really good friends ( more like family ) which makes it an enjoyable workplace, At the clinic i perform a number of different roles, Consult nurse, surgical nurse and kennel nurse, All of which are very enjoyable helping out all our patients so they can have their best possible life.
With my spare time i usually spend it feeding cleaning attending to my animals, Taking kids to all their different activities and sports and hoping that i will get a day to go and spend some time laying in the sand on the beach.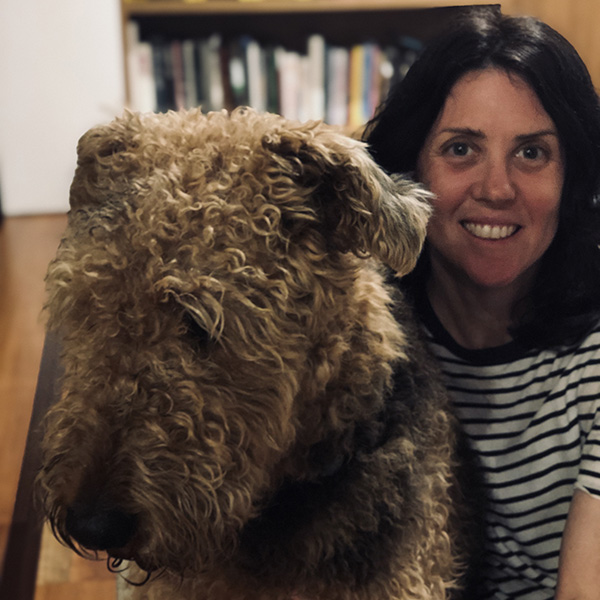 Lisa Wickbold
Veterinary Nurse
Hello! My name is Lisa, and I have trained and worked at Murwillumbah Veterinary Clinic since 2013, transitioning from volunteer, trainee veterinary nurse and became a certified Vet Nurse in 2015.
My role at the clinic is varied, and you might find me working on reception, consulting with you and your pets and with our wonderful Vets, or nursing them in hospital or whilst they are in for surgery or a procedure. I also really enjoy following up with our clients to answer any questions they may have or concerns about their pet's well-being after surgery.
Read more...
I love all aspects of working at the clinic, from seeing my colleagues every week, meeting new clients and helping all of our patients and clients work towards what is best for their health and wellbeing.
I have lived in Murwillumbah since 2007, when my husband and I built our first home together and started a family. We have three children and two dogs, and a very busy and full life. My family really enjoy hearing about what we achieve in a day, how varied it is in the clinic, from seeing guinea pigs and rabbits, to lambs and piglets, alpacas, cattle – even the occasional dog and cat! My dogs also like to learn about my day by systematically sniffing me from my boots to my shoulders every time I walk in the door.
Outside of work, I love to support my family in their endeavours, travelling, eating out and bushwalking.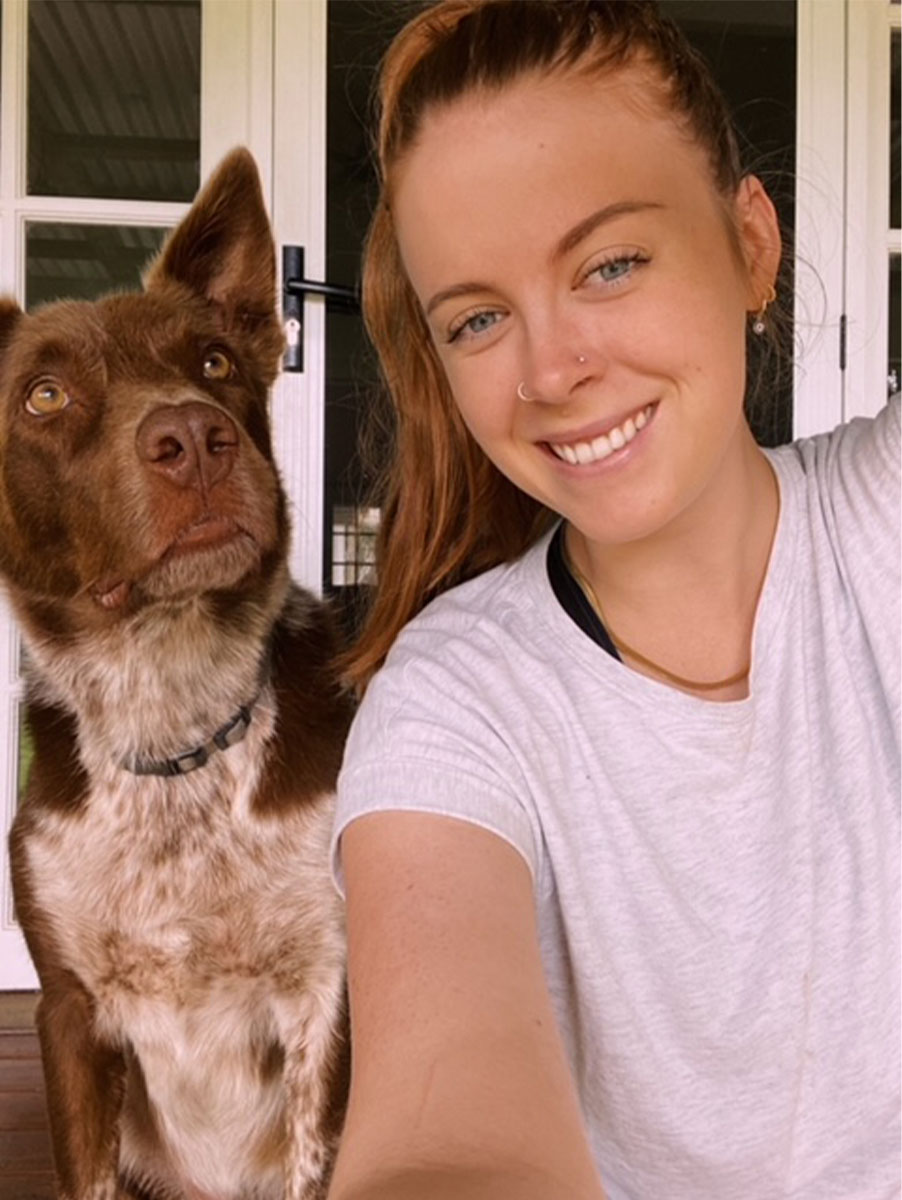 Claire Hoddinott
Veterinary Nurse
Hi, my name is Claire.
I started volunteering at MVC at the end of 2019 while doing my Certificate III in Companion Animals. I was employed at the end of 2020 as a nurse and have had the pleasure of working alongside the most incredible team.
I was born in Murwillumbah and grew up on my parents property out at Uki surrounded by different types of animals such a as dogs, cows, Clydesdales and the native animals in the area that kept myself and my sister busy during our childhood.
Read more...
I have one older sister Ellen that lives in America and is a competitive barrel racer. I have a beautiful Australian Kelpie called Billy who keeps me on my toes and provides me with a lot of laughs and a retired racehorse Wol, a chestnut thoroughbred who is as beautiful as he is lazy.
At the clinic you will likely find me in one of the consult rooms greeting you when you come in with your pet, or out in surgery monitoring our patients and recovering them. Being a vet nurse is truly one of the most rewarding jobs and to work alongside such incredible people like those at MVC is really the cherry on top.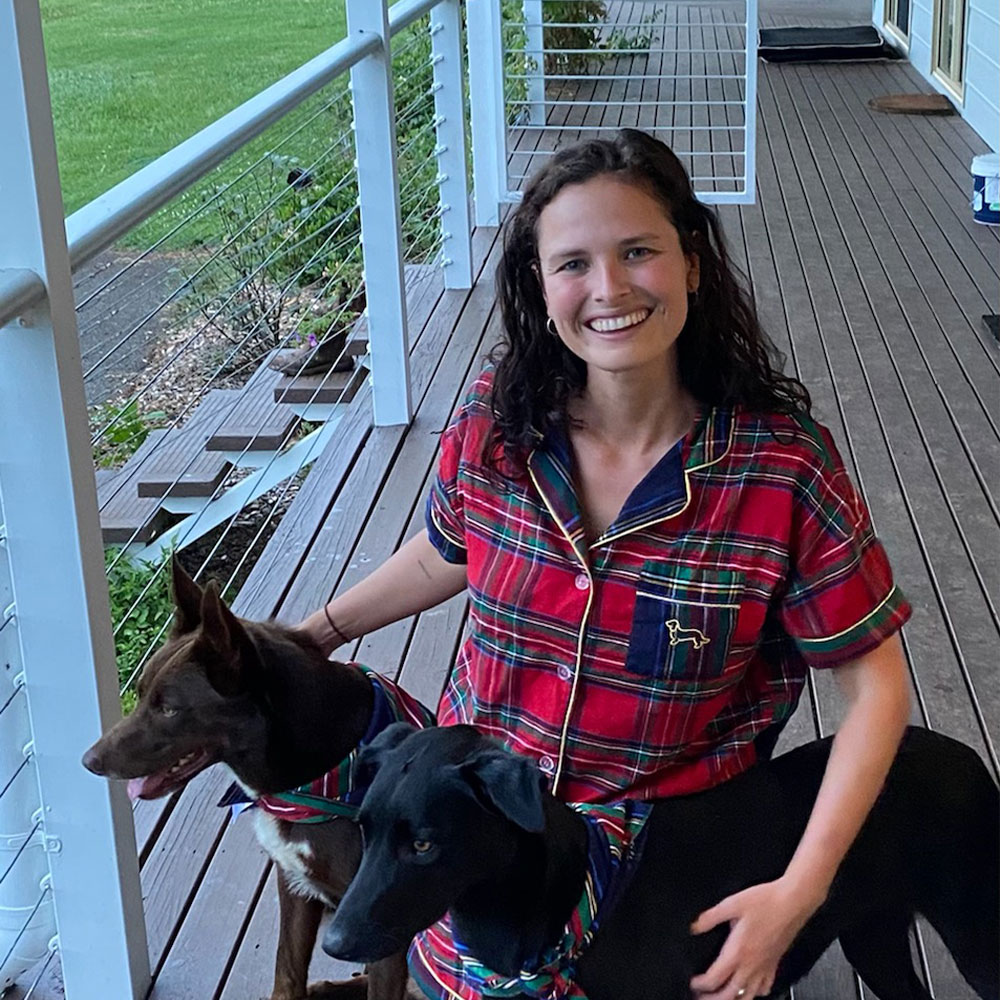 Lydia Stephenson
Veterinary Nurse
Hello! I'm Lydia. I'd also like to introduce you to my two Kelpie x dogs Albie and Agnes, who were bribed with copious amounts of treats to keep their matching Christmas bandanas on for this photograph.
I started at Murwillumbah Vet Clinic in 2019 as a trainee nurse after working and studying in fields including psychological science, childhood education and a few years in the tech industry. I'd like to think my decision to work in animal medicine was surprising but my family will tell you about Babe the pig who became part of our family at my insistence (as an animal loving 7 year old girl) and Rainbow the guinea pig I'd sneak in to my bed each evening. They'd also tell you about the cattle yard fence I dented from sitting on and hanging out with the cows every afternoon with my best friend – our 3 legged dog named Fella. Being with animals is where I feel at home and working with them as my job is the ultimate privilege.
Read more...
You'll find me mostly in a consultation room with one of our incredible vets, or admitting your beloved animal for a surgical procedure where I'll monitor their anaesthetic and recovery. I really enjoy creating a space in the clinic for your animal to feel comfortable and safe – whether that's in my arms or tucked away in a warm bed with lots of blankets.
I look forward to meeting you and your pet in the clinic 🙂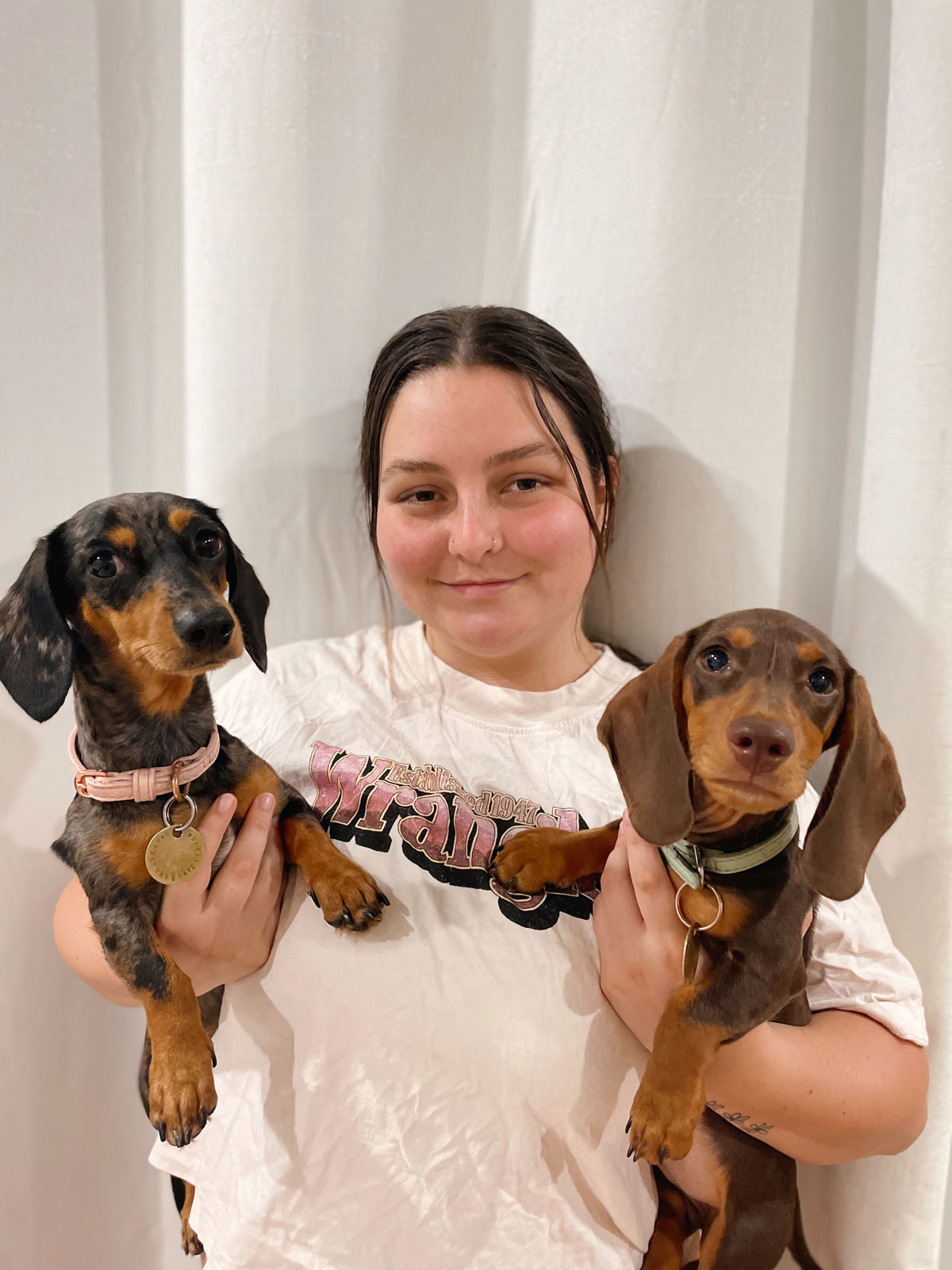 Lilly Rawson
Veterinary Nurse
Hi my name is Lilly, I live in a converted shipping container with my partner Bailey and my miniature dachshunds Finn and Frankie. I grew up in the local area of Chillingham on a cattle farm, I spent most of my weekends following my family around the farm helping to chase the cows and tack up the horses. My pop bought me my first pony when I was 11 and I spent more time trying to catch him then on his back.
As soon as I heard that one of the farm animals was sick or injured I was the first one down there comforting them until the vet came. I would miss the bus to school watching the vet in awe perform a difficult calving or stitching up my clumsy stock horse. I knew that I wanted to wear scrubs and help all animals when I was older.
Read more...
I studied Vet Nursing and qualified late 2022 at Murwillumbah Veterinary Clinic I have a special interest in emergency nursing, livestock medicine, biology and pharmacology. I gave birth to my beautiful daughter Nov 2022 and I am now working a few days week and well as being a busy mum 
You may see me in consult, admitting your pet for surgery, greeting you on the phone or carrying the calving equipment around your stock yards. But I'm mostly found in the prep room cuddling and comforting your pets when they are receiving treatment. Working at the clinic is a dream come true and I'm so grateful to be apart of such a kind and supportive team, I cannot wait to learn and grow in my vet nursing career.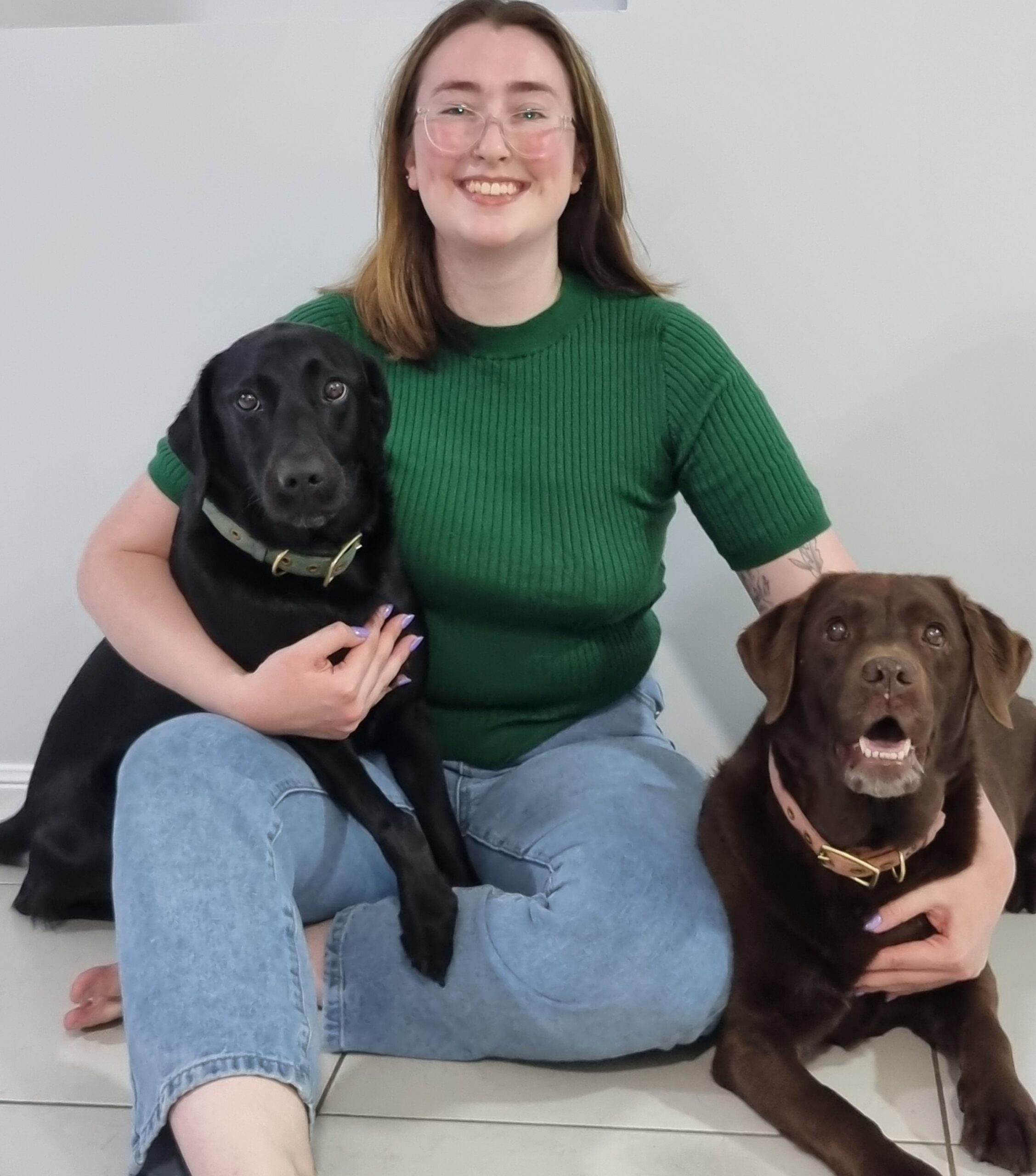 Brenna Waugh
Veterinary Nurse
Hello, my name is Brenna. I've lived in the Southern Gold Coast/Northern Rivers area since I was 6. I'm the youngest of 5 children and invariably have the best time with my family that has also at all times included our beloved pets.
I have without fail loved animals. I've grown up surrounded by dogs, cats, birds and fish. Seeing the care and compassion that all the vet staff showed when taking care of our pets, I knew I wanted to be a part of it.
Read more...
I finished my Cert IV in Veterinary Nursing in 2017 and have worked in 2 other clinics before finding MVC and the amazingly talented and lovely team here. I started at MVC in 2022 as a veterinary nurse.
I currently have 2 Labradors as well as 2 cats. I absolutely adore them with their vibrant and at times stubborn personalities, they keep me constantly entertained.
You may see me in consult, hear me on the phone or meet me at a home visit, helping our incredible vets care for your pets.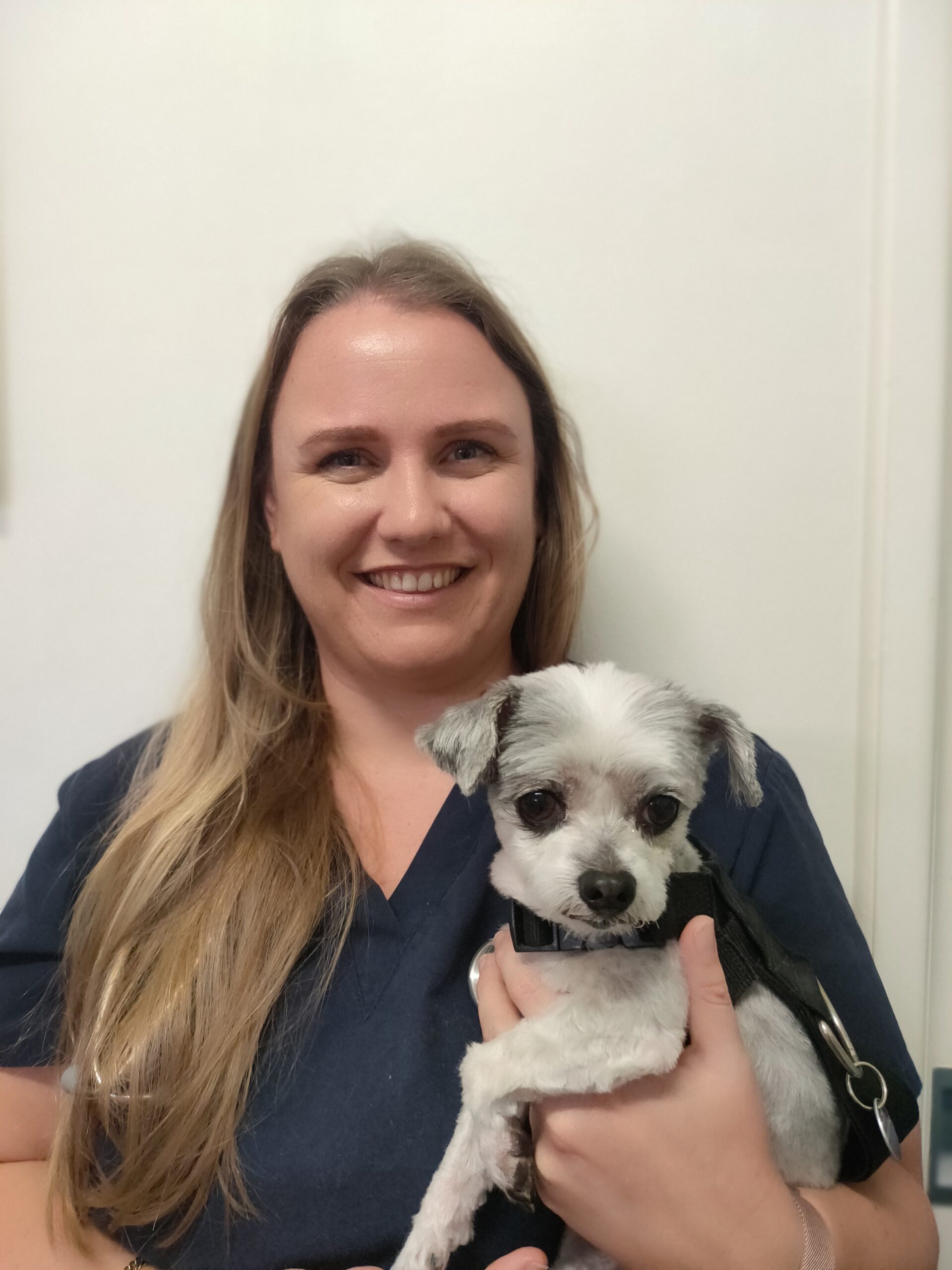 Jasmine Stewart
Veterinary Nurse
Hi! My name is Jasmine, Born and raised in the Tweed Shire, I'm living life with my partner Ben and our awesome German Shepherd, Nellie. I started out my placement for a Certificate IV in Veterinary Nursing at MVC in 2022, and when I was offered a position to join the team I jumped at the chance!
At the clinic, I wear a few different hats. Some days, you'll find me consulting, working side by side with our incredible vets. Other times, you'll spot me when your furry friend is admitted or discharged as the hospital nurse making sure they're well looked after during their procedures and recovery. My love for animals goes way back – after high school, I joined Friends of the Pound at Stott's Island volunteering, and that's where my journey in animal care began. From there I began fostering animals, and that experience made me absolutely sure that being a vet nurse was what I was meant to do.
Read more...
Life's not just about work though. When I'm not at the clinic, you'll find me, Ben, and Nellie out and about. We're big on exploring, whether it's cruising the Tweed River on our boat or trying not to fall off our paddle-boards.
Being a vet nurse is like a dream come true for me. I get to dive into my passion every day, helping out with all sorts of animals. And it's not just about your pets; it's about connecting with our clients too. Every day throws something new my way, and I love the challenge. Working with such an awesome team at MVC makes it even better. I'm all about mixing my love for animals with making a positive impact, and that's exactly what I'm doing here.
So, next time you're at the Murwillumbah Veterinary Clinic, come say hi – I can't wait to meet you and your furry buddies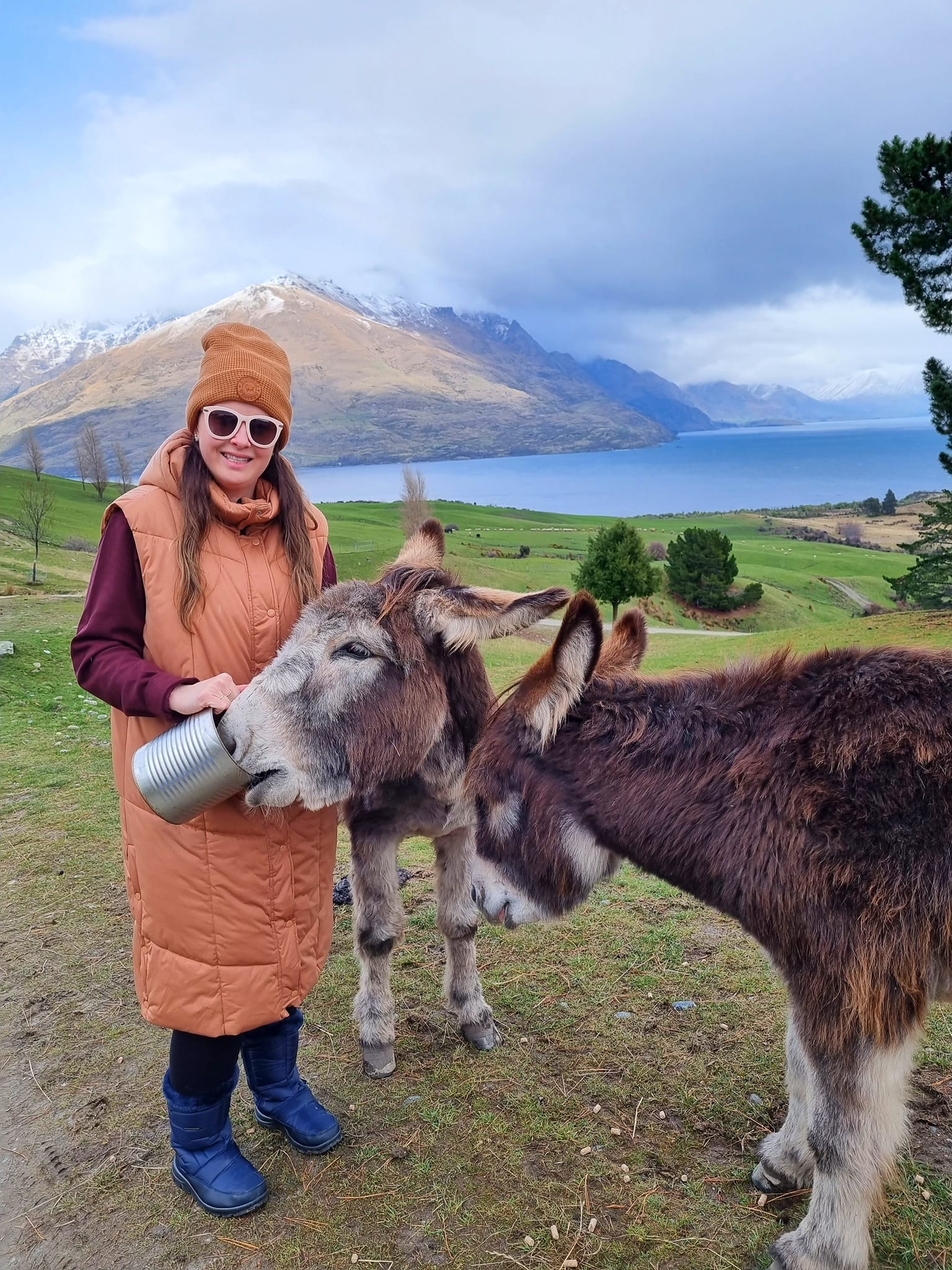 Tiffany Swift
Reception – Management
Hi, I'm Tiffany and I've been apart of the MVC team since 2008. From a very young age I had a passion of caring for animals, and always knew I wanted a career in the animal industry.
Read more...
In 2014 I won the Hills/VNCA national Vet Nurse of the year, then completed my diploma in general practice in 2015. When I'm not in the clinic you will either find me at the beach with my Staffy Keisha or BRB… traveling abroad.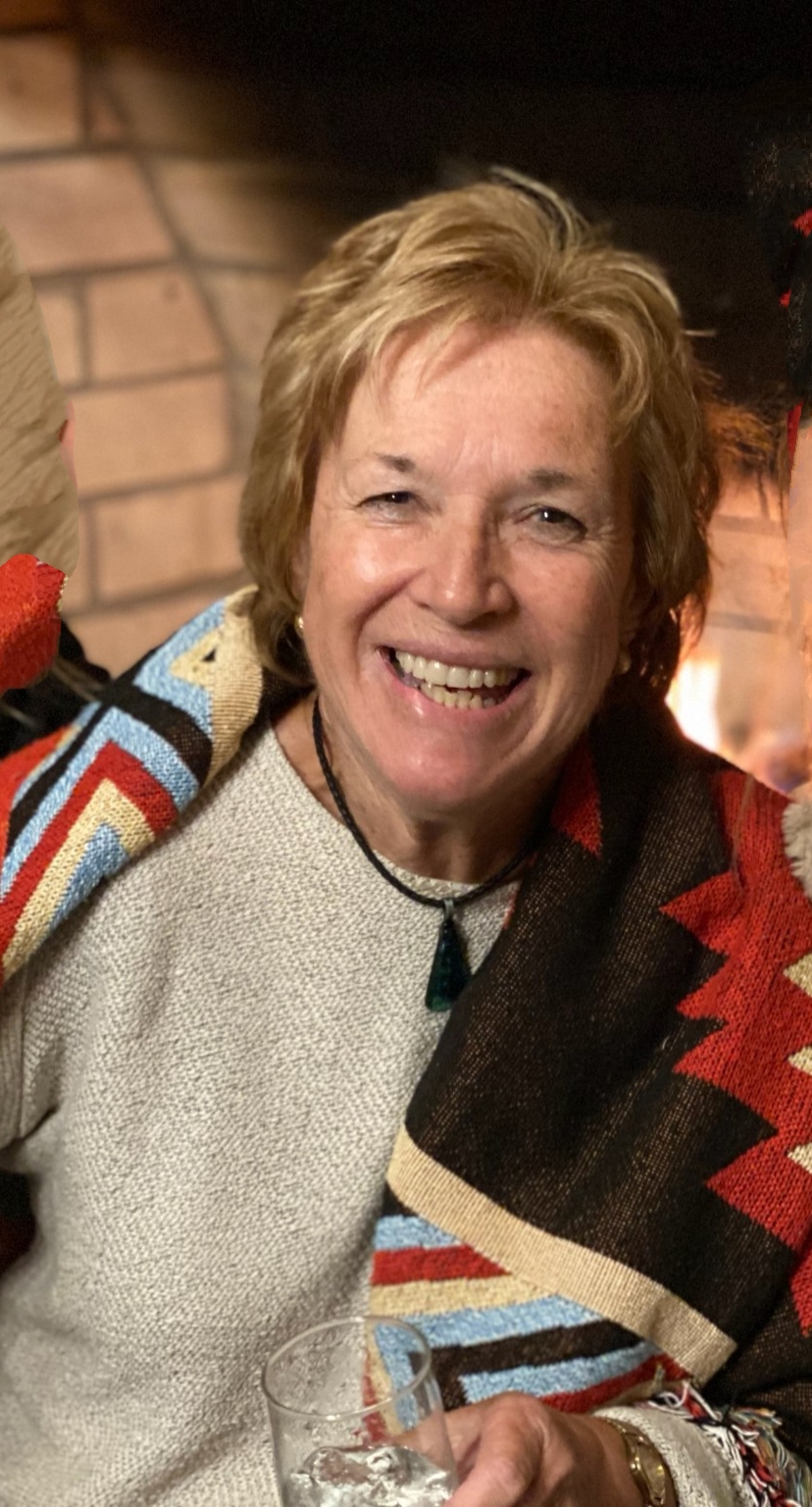 Bronwyn Burton
Receptionist
Hi, my name is Bronwyn and I have been a part of the MVC team for the last 34 years, both as a Nurse and Receptionist. I live local with 2 grown children and 2 beautiful grandkids. 
Read more...
My passion has always been all things feathered and I like to be known as the bird nerd! I have many varieties of birds which include Finches, Canaries, Doves, Quails, Guinea Fowl and of course Chooks, which keeps me very busy! I also have a dog and cat and a large collection of Tropical Fish, which some people may not know about me! Looking forward to meeting you at Reception!
Meet Our Team of Volunteers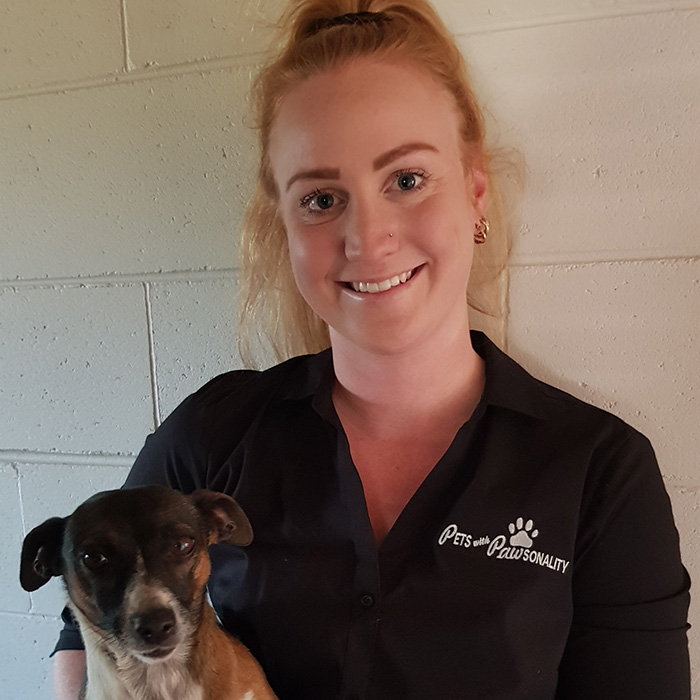 Jorja McLeod
Dog Groomer
Hello, my name is Jorja.
I started volunteering at the Vet Clinic on the 15th of February 2013 and have attained Certificate II Animal Studies, Certificate III Companion Animals, Qualified Dog Groomer and Certificate IV in Veterinary Nursing.
In May 2014, I attended a 4 week hands on course at the Victorian College of Dog Grooming, which encouraged me to start my own business within the Dog Grooming Industry, my business name is "Pets with Pawsonality". My salon is located at Dunbible which is about 10 minutes outside of Murwillumbah. I am the Groomer on Thursdays fortnightly here at the clinic.
Read more...
From a very young age and growing up on a farm with all types of animals big and small. I have always loved their company and being around them. I wanted to become involved in caring for them, to pass on my knowledge of animal health and to help improve your pet's lives, by having your dog groomed, it's important to keep your best friend's coat and skin clean and healthy.
"A Clean Pet is a Happy Pet!"
The team of vets and nurses here at the clinic are very professional and ensure that i will get the best understanding and knowledge possible to enhance my desire for learning the correct procedures.
As for my Hobbies/Interests, I enjoy horse and motorbike riding, cattle work/farm work, op shopping, listening to music and spending time with family and friends.
Opening Hours
Mon-Fri: 8:30am - 5:30pm*
Sat: 8:30am - 12:30pm